Part of an ongoing series about GroupWise 2012.
Have you ever tried to schedule a recurring appointment in GroupWise 8? It is a weird interface. And the entire time you're trying to schedule this recurring meeting, you are saying to yourself, "It shouldn't be this hard to schedule a meeting the second Tuesday of every month at 9am." True. It shouldn't be.
With GroupWise 2012, Novell has added an additional option for scheduling recurring appointments that makes this much more intuitive. On each appointment, there is a little "Recurrence" drop-down that allows you to to specify daily, weekly, monthly, yearly, or custom. If you chose custom, all the old options are there. If you chose one of the other time-frame options, there is a nice little pop-up that helps you specify the "pattern" you want. For example, the pop-up is very intuitive and lets you plainly configure with drop-downs "The second Tuesday of every 1 month(s)." Voila!
Here is a screenshot of the menus.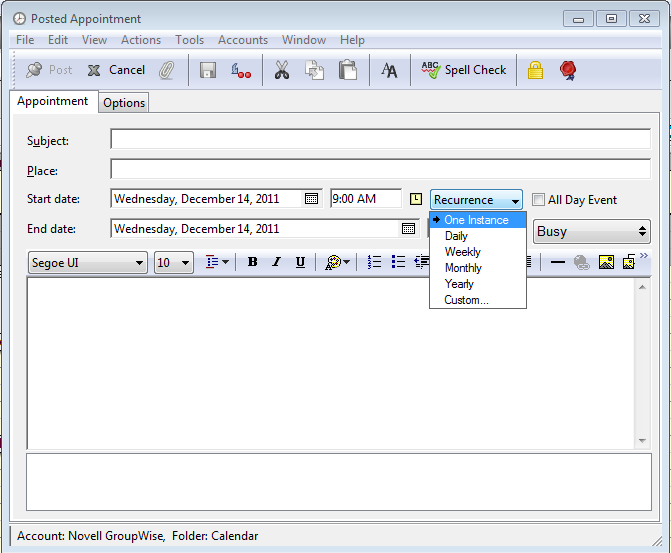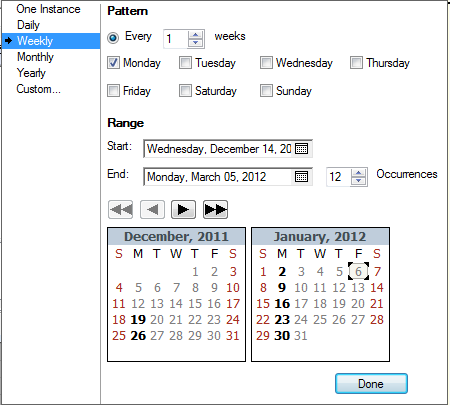 In the words of that red "easy" button on my desk, "That was easy!" If you need more information about GroupWise 2012, just give us a call and we'll be happy to get you the information you need.
Professional Services
Read more about our GroupWise services and support options on our GroupWise Support page.