Trusted Novell NetWare Support Expertise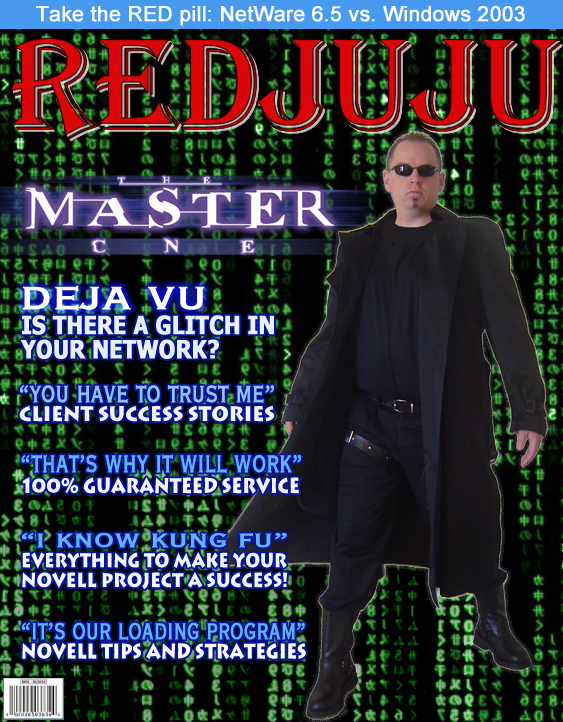 REDJUJU.COM Website Front Page Circa 2004
Marvin Huffaker has supported, installed, migrated, and upgraded Novell NetWare and OES systems around the world for almost 20 years.
Marvin has been Novell certified with NetWare since 1999 for NetWare 3.x, 4.x, 5.x, and 6.x. He holds a CNE for each of these versions as well as the Master CNE certification. For almost 20 Years, Marvin has worked exclusively with Novell solutions in both large enterprise and small business environments. He has extensive hands on experience with Novell NetWare and is one of the few experts still capable and willing to provide support for Legacy NetWare servers. If you are still running Novell NetWare, Marvin Huffaker can help service and support your system.
Marvin can also help you upgrade or migrate your NetWare servers to OES while keeping all of your users, drive mappings, permissions, login scripts and more.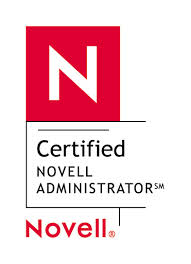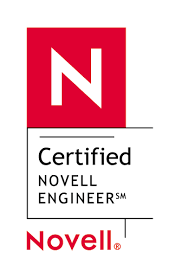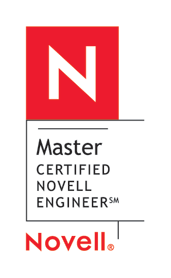 Novell NetWare End of Life Information

Novell NetWare went end of life on March 7, 2010.  If you're still running NetWare because your business needs NetWare, and you NEED to keep it around for a while, but you have issues with aging hardware or supportability....  You have options. Marvin Huffaker can help keep your NetWare servers running for as long as they are useful to your company.
Virtualize Novell NetWare

One of the challenges you may face with a Legacy NetWare server is that it is difficult to find hardware that supports NetWare. With VMware vSphere, it's possible to use new hardware with an older server Operating System such as NetWare 6.5 because the VMWare hypervisor handles the hardware drivers. If you are facing aging hardware issues and need to figure out a strategy to keep NetWare running stable, give Marvin a call and talk to him about the options.
Possible Upgrade from NetWare to Open Enterprise Server

You may not even realize this, but it's possible to migrate Novell NetWare to Linux based Open Enterprise Server and keep all of the services you currently love.
Microfocus Open Enterprise Server (OES) is the logical platform choice when you are ready to upgrade from NetWare. OES is essentially the next generation of NetWare and provides the same reliable services NetWare did. But instead of on running on an outdated 32-bit proprietary system, OES runs on a high performance 64-bit SUSE Linux system. You can keep your existing infrastructure including users, groups, login scripts, drive letters (shared volumes), printing, and more.
Unlike Migrations to Windows that require a complete rip and replace effort, an OES migration can be done with MINIMAL interruption. The great thing is that in many cases, users do not even know that a major infrastructure change has been made. Open Enterprise Server is a state of the art server operating system that is fast, stable, and secure. It's just what you expect from Novell. Most of our own production servers run Novell Open Enterprise Server.
** Microfocus, formerly Novell.
Guaranteed Migration to Microfocus Open Enterprise Server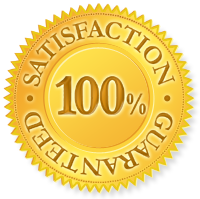 When you work with Marvin Huffaker to migrate a NetWare server to either Open Enterprise Server (OES) or to NetWare on a Virtualized platform, you can rest easy knowing that your data will be safe and secure, and that there will be minimal disruptions to your business during the process. We are the only company with this exclusive guarantee.
Marvin guarantees your successful upgrade and migration.

Marvin guarantees minimal downtime and minimal impact on end users.

Marvin guarantees Zero Data Loss and take steps to mitigate the risk.

Marvin guarantees this on every NetWare project, large or small.
This guarantee applies to 1) Migrations to Open Enterprise Server and 2) Physical to Virtual NetWare migrations.
More Information about Microfocus Open Enterprise Server