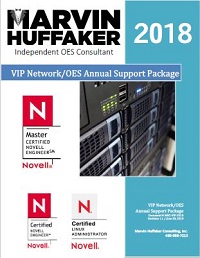 Version
Download

29

File Size

672.22 KB

File Count

1

Create Date

June 27, 2018

Last Updated

June 27, 2018
VIP Network/OES Annual Support Package
All Inclusive VIP Support Package Overview
For your Micro Focus Open Enterprise Server (OES) or SUSE Linux Enterprise Server
(SLES) environment, when you need someone with a high level of expertise and
experience to take care of everything on an ongoing basis.
The package is a fixed price solution with no overages or surprises, and includes support
for your entire network of OES and SLES servers. Any required installation, updates,
patching, configuration, and support (including day to day support as well as critical
outage / emergency support) is included. Additionally, the package includes file system
permissions and group management (ACL's) to ensure your security needs are managed
correctly.
Support package include FREE server upgrades for any system covered by the
agreement. When it comes time to upgrade to the next version, the project (services
only, not licensing) is already paid for. This is true even if it requires a server to server
migration.
Services are provided remotely. Arrangements for occasional onsite services are
available at an additional cost.
How Marvin Huffaker's Support Package Helps Your Business
Unlimited system support, including 24×7 support for critical outages.
FIXED Monthly fee with NO overages or extra charges.
Server upgrades and migrations are included at no extra charge.
Full support, maintenance, patches, tuning and troubleshooting.
File system trustee rights management for best practice security.
License management and monitoring to ensure vendor compliance.
Marvin takes ownership of the issues so you can worry about your business.