GroupWise for iPhone

You WANT GroupWise Email on your iPhone.

| | |
| --- | --- |
| | You have GroupWise. |
| | You have an iPhone. |
| | You can't live another day without GroupWise Email, Calendar, and Contacts on your iPhone. |

Great News!

Now you can get GroupWise Email on your iPhone using the Novell Datasync Mobility Pack that is already part of GroupWise. AWESOME!

Learn More: In order to get GroupWise on your iPhone, you need a Novell Data Synchronizer Mobility Pack server to be integrated into your GroupWise system. Our no risk installation and support offer will get you in business fast. Click Here for details.
GroupWise for iPhone Feature Highlights

1) Preview Your Inbox

Check out all the new email that has arrived in your GroupWise inbox. Great!

2) Read GroupWise Messages

Open any GroupWise message on your iPhone and read, reply, forward, or trash it.
---
| | | | |
| --- | --- | --- | --- |
| | This is great! How do I get it? | | We can do a full turnkey installation and have you up and running quick. What are you waiting for? Click here for details. |
---
3) Send Email

Use your iPhone to send GroupWise Email to anyone in the world. Excellent!

4) GroupWise Folder Lists

Access to all of your actual GroupWise folders. It's all right there. Nice!
---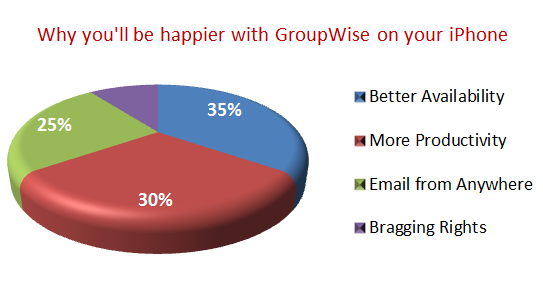 ---
5) Daily Calendar

Look! Check out your daily GroupWise calendar on your iPhone. Not bad!

6) Appointment Lists

See your upcoming GroupWise appointments in an easy to view list!
| | | | |
| --- | --- | --- | --- |
| | What are the system requirements? | | You'll need a GroupWise 8 or GroupWise 2012 Email system and a separate server to run the Datasync component. Don't worry, we'll handle the technical details. |
---
Did you know: When you have Datasync Mobility Pack Server installed, all of the smartphone users at your company will be able to get GroupWise on their phone. This includes Droid, Nokia, Samsung, HTC, and other Android devices. One server can easily support up to 200 devices. Our installation and support is turnkey, and we make it easy for you to get up and running. Click here to learn more.
7) Meeting Reminders

This is handy. Your iPhone will notify you when a meeting on your GroupWise calendar is coming up.

8) Event Notifications

Get notified right away on your iPhone when someone sends you an appointment in GroupWise.
---
| | | | |
| --- | --- | --- | --- |
| | How much does this cost? | | The software licenses are free with your GroupWise entitlements. Our Data Sync support and monitoring is a fixed flat rate and installation is included free. Click here to learn more. |
---
9) Setup Meetings

Create appointments from your iPhone and put them on your GroupWise Calendar. You can invite other people to meetings, and they don't even have to be GroupWise users!

10) GroupWise Appointments

View any appointment from your GroupWise calendar on your iPhone and accept or reject it. Maybe you have something better to do instead. I like it!
---
| | |
| --- | --- |
| | Warning: We are experts with years of training and experience. Do not attempt. Screen images are actual screenshots from an iPhone 4S synchronized to a production GroupWise 2012 system. We do not test on animals. |
---
11) GroupWise Contacts

Use GroupWise contacts to email directly and easily from your iPhone. You don't even need to know their email address!

12) GroupWise Contacts

Easily see all of your GroupWise contacts on your iPhone. Call, email, or text them, whatever is the least painful.
---
| | | | |
| --- | --- | --- | --- |
| | Why don't we have this installed yet? | | Because you haven't scheduled it yet. We can have it up and running in less than a week. You can review and order our complete offering here. |
---
Other Stuff You Might Want To Know about Novell Datasync Mobility
| | |
| --- | --- |
| | One Datasync Mobility server can easily service up to about 200 smartphones. Share the love. Let your employees use it too. They'll get more done. |
| | |
| | Datasync Mobility also works on iPod Touch, iPad, and a slew of other smartphones. If your company uses Android devices or smartphones from HTC, Nokia, Samsung, and more, employees can use Novell Datasync Mobility to get their GroupWise mail, calendar, and contacts on their phone. It's easy to mix and match. |
| | |
| | You'll love having your iPhone connected to your GroupWise system and being able to get access to email, appointments, and contacts anywhere you happen to be sitting. Or standing. |
| | |
| | In order to centrally manage the iPhones, tablets, smartphones, or other mobile devices, or to enforce any corporate security policy, you need a Mobile Device Management solution. Relax, we can hook you up with the perfect solution. We have connections. |
---
Why You Should Let Us Help
You might be looking around, wondering who can help you get this thing up and running. But you're not sure how to tell if someone is qualified. Here's some ideas that should help you with your decision. It looks like you've probably found your answer.
| | |
| --- | --- |
| | We minimize your business risk. We know what we're doing. We've done it before. We'll save you from making critical mistakes. |
| | We can get your project scheduled quick, and you'll be mobile in no time flat. Like zippity split fast. |
| | Our expertise is with GroupWise and all things related to GroupWise. You could call us experts, even though we'll blush when you do. |
| | We guarantee our services 100%. If you are not satisfied with the quality of work and expertise provided, you will not pay for our services. |
Full Details – Peace of Mind Support and Installation
To learn about our full installation, service, and support for the Datasync Mobility Pack, which will give you GroupWise mail, calendar, and contacts on your iPhone, just click this link.  We'll install, configure, support, monitor, and respond to alerts with our comprehensive package for a reasonable price.

---
Ready to Buy? Have more Questions?
We have Answers.

Since we're engineers, not salespeople, we can have a real and honest conversation with you to determine if it would make sense for us to work together. It's that easy. How's that for a refreshing glass of lemonade? Whether you're ready to purchase, or you just need more information, click the "Learn More Here" button above. You can also call us at the number to the right.